Board of Trustees meetings are held the second Wednesdays of the month at 7:00 p.m. in the Children's Room. The public is invited to attend.
Board of Trustees of the Fort Edward Free Library 2020:
President: James Donahue
Vice President: Janelle Rose
Treasurer: MaryEllen Fisher
Secretary: Dr. Denise Mayer
Trustees: Katie Hunsdon-Stannard, Janelle Rose, Former Vice-President Kathy Smatko is now a Trustee.
Library Staff:
Library Manager: Vicki Plude
Library Assistant: Lynn Ives
Volunteer: Donna Leonard
January 2020 Library Board Minutes
February 2020 Library Board Minutes
March 2020 Library Board Minutes
April 2020 Library Board Meeting was cancelled due to the Covid-19 Pandemic.
May 2020 Library Board Minutes
June 2020 Library Board Minutes
July 2020 Library Board Minutes Special Meeting
January 2019 Library Board Minutes
February 2019 Library Board Minutes
March 2019 Library Board Minutes
April 2019 Library Board Minutes
May 2019 Library Board Minutes
June 2019 Library Board Minutes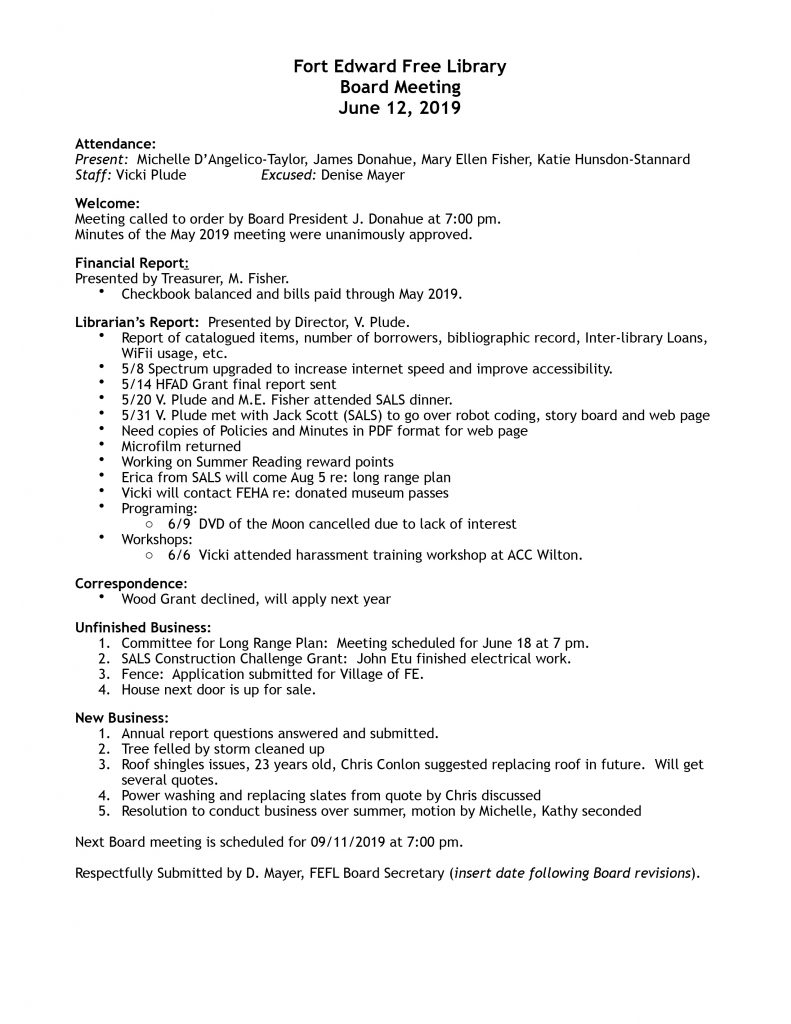 September 2019 Library Board Minutes
November 2019 Library Board Minutes
December 2019 Library Board Minutes
January 2020 Board Changes