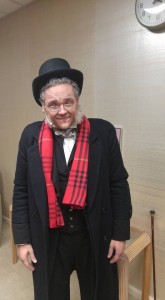 Trevor Wilkins who holds a B.A. in Speech Communications and Theatre Performance from Pensacola Christian College will be conducting  Four, fun and interactive Theater Education Workshops for Tweens and Teens who are of the Sixth, Seventh and Eighth Grade Levels.   To try and avoid conflicts with other activities, workshops are being held on Sunday afternoons from 1-5 pm at the Fort Edward Free Library.
January 22   Week 1 – Introduction to Theater Principles  
Participants will be learning what theater is (the art of telling stories through live acting) and how it effects the community.
January 29  Week 2 – Theater Conventions
They will be learning basic makeup application and costume construction.
February 5th  Week 3 – Acting and Theory Techniques
Different acting styles that exist, scenes, monologues, voice projection.
February 12th  Week 4 – Production Techniques and Guidelines
They will be learning all the steps to make a great production and the role that they play in a productions success.
Weekly workshop fee is that of a $5 donation and will be applied toward the 2017 Summer Library Play costs.  Workshops are open to those of all abilities and preference is first given to those residing within the Village and Town of Fort Edward.  Class size is limited to 3o participants.  Please contact the library at 518-747-6743 to register. 
Trevor recently played the lead role as "Scrooge" in the classic  "A Christmas Carol"